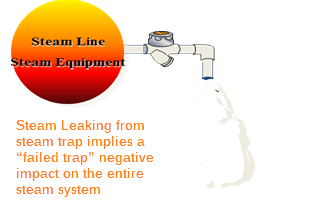 STEAM TRAP SURVEY
Quantify your losses per day to the nearest Rupee!!
THE FACTS!
Steam is the most widely used energy resource in any industry after Electricity and water.
Waiting to find cheaper generated power maybe fruitless - save by reducing steam losses !
A good steam system needs to be monitored - not only regularly, BUT as a "stand alone" service using technology & Instrument that is NOT BIASED towards any specific STEAM TRAP BRAND. SOFTWARE & DATA SHOULD QUANTIFY YOUR LOSSES FOR EVERY TRAP - AS PER ISO 7841:1988(E)
PERMAWELD is focused on Energy savings through high quality steam trap management that then enables a plant to move towards BPSTM (Best Practices for Steam Trap Management) read more..
Our specially trained Engineer's conduct steam trap audit and survey using TLV TRAPMANAGER [TM-5 TM-6] - A Computerized Steam Trap Management System which integrates ultrasonic & temperature measurement system with built-in diagnostics and a data logging function.
The TRAPMAN's measuring capabilities are globally known and validated by the Lloyds Registry as per ISO 7841:1988(E) standards. The unique difference is that the TLV TRAPMAN system uses a database of ALL KNOWN GLOBAL BRANDS. This is continuously updated with every inspection and audit conducted by staff trained by them. The data is uploaded and compared on a global basis by our principals in Japan. This unique system offers powerful support that helps to continually optimize and upgrade your steam trap operations and choose the best one suited with lowest failure rate and efficiency. This allows unbiased selection of any brand of trap that helps achieve better results. Plants can now accurately assess and know the tangible rupee losses being incurred per individual trap, per day/month or year.
The combined expertise of PERMAWELD Engineer's and TLV's global expertise (plus training given to us in using their specialized tool) - establishes a true cost effective and unbiased trap management system.
OUR UNBIASED STEAM TRAP AUDIT HELPS DETERMINE WHICH IS THE BEST SUITED STEAM TRAP TO BUY BASED ON TANGIBLE ROI (Payback based on saving and extended performance)